Free Utility Software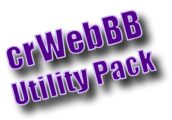 The crWebBB Utility Pack is a set of companion utilities for our RDS and web billboard software, crWebBB.
The Utility Pack is useful only if you are using crWebBB and includes:
As-Run Viewer
Remote Database Client
RDS Receiver Simulator
Review the individual utility sections for additional information on each of the utilities.
Overview
The crWebBB As-Run Viewer is for use in reviewing as-run audit data - a record of "Now Playing" billboard posting activity generated by crWebBB. Each of the fields of information in the audit data is placed in clearly-marked columns to ease readability and provide the means to sort and group information.
Users can also export selected information to several popular file formats, including HTML, plain text, XLS, and XML for further review or processing.
Features
Multiple file viewing support. View several as-run logs, each in its own view window, or load multiple as-run logs into a single view window.
Grouping of data. Group viewed information any displayed column. Grouping can be nested – i.e. group by date and, within each date, group by hour.
Sorting. Sort columns ascending or descending with multiple column sorting supported.
Filtering. Only looking for information that contains certain key text? User-defined filters can be used, including wildcard support. Filters can be saved for later use.
Searching. Search for user-defined text in a selectable column of information. Up to 15 search strings are remembered and can be selected the next time you search for text.
Data Export. Export selected information to HTML, XLS, XML and plain text.
User-customizable appearance. Column widths, position, and grouping are automatically saved and restored each time the application is used. You can also save and load custom column settings on-demand.
Overview
The crWebBB Database Client application is a remote database maintenance utility for crWebBB. It provides a means to perform maintenance on the crWebBB database from another PC. TCP/IP is used to communicate with the host crWebBB application, so the client PC can be located almost anywhere.
Database Maintenance Functionality
Cart Categories. Add, edit and delete categories.
Category Cart Masks. Add, edit, delete masks for each cart category.
Alternate Message Content. Add, edit, delete alternate messages.
Music Data Maintenance. Import music, manually add, edit and delete song information. Proper-casing of song title and artist information on-demand.
| | |
| --- | --- |
| | All posted changes made in crWebBB Database Client are immediately available in the host crWebBB application. |
The crWebBB Database Client is for content maintenance only and does not allow modifications to crWebBB's application settings.
Overview
The RDS Receiver Simulator is intended to provide a means to display RDS/RBDS-targeted serial data in a testing or simulation environment without having to have an RDS/RBDS encoder in service.
Using this software is a matter of installing, connecting the serial output of an application that generates RDS/RBDS data to the PC running this software, and selecting and opening the connected port within this application.
Data sent by the generator application is analyzed on receipt and if the data is PS or RT information, the information is displayed in the appropriate display field.
There are a number of options for RDS data display, including simulating dynamic scrolling PS data and on-demand display of RT data.
Non-display data sent by the generator application can be viewed in the integrated terminal window.
License
We do not charge for the software contained in the crWebBB Utilities Pack. All software included is subject to a license agreement, though. Read the full text of the agreement here.