Broadcast log editing & validation made easy!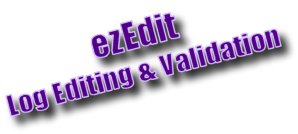 ezEdit is an application for editing and/or creating XStudio, DCS™ and Maestro™ generic log files. These log files meet Computer Concepts Corporation's Generic Log File Specification version 1.5, as originally published on their web site.
ezEdit, along with its companion ezSuite, is in use at hundreds of stations, providing an easy, efficient and robust log editing environment. Users can work with multiple logs simultaneously, if desired.
Log files created or edited with ezEdit meet Computer Concepts Corporation's published Generic Log File Specification version 1.5.
The intent behind ezEdit is to provide an application that replicates and enhances the functionality provided by Computer Concepts Corporation's original log editing utility, known as "CMED". This original application is a DOS application that, while an excellent editor for CCC's generic logs, has shortcomings in the areas of printing a log, validating logs, and printing inventory lists. It is also difficult to administer, requiring multiple shortcuts (in Windows) and multiple configuration files especially created and maintained for editing purposes.
ezEdit provides a true Windows editing environment, allowing additional conveniences in the log editing process, including drag and drop moving of carts on the log, drag and drop addition of carts from the inventory, and hourly content totals that are based on the selected inventory.
ezEdit allows for a virtually unlimited number of station log configurations, including the ability to easily view and/or edit pre-merged traffic logs. Log source directories can be be different for each station and a station's associated inventory file can be located somewhere other than the log directory.
Edit and create logs for an unlimited number of stations, including pre-merged traffic-only logs.
Drag and drop operation for moving audio items around on the log, including scrolling the log view while dragging. Drag and drop audio items (carts) from the station inventory to the log.
Copy audio items (carts) from and Paste audio items (carts) to the log. When multiple logs are open, users can copy an item from one log and paste it into a different log.
User-defined cart colors and font styles for quick visual identification of user-defined cart categories on the log.
Support for creating, editing, saving and inserting log templates (*.FMT files).
Log searching by cart number or description.
Hourly log content totals, calculated from the inventory (if used), along with directive segment time totals. Directive segment totals, too.
Log Validation. Validate multiple logs concurrently - users can validate more than one log, each in its own window.
Log validation cart-length checking. Users can optionally check the length of carts in the inventory compared to the logged length to catch problems like the customer ordering a :60 and the produced spot is only :30.
Log validation filtering. Validations reports can be filtered for user-defined cart number ranges to include only those validation errors that are meaningful to the user.
Log validation views include grouping by error type or cart number for more clearly understood reports.
On-demand updating of audio cart description and length from the DCS/Maestro inventory information.
Selective printing of log validation reports. Users can select multiple validation errors and print only those selected. Print preview, too!
Print logs, including print preview and selective printing of pages.
Inventory printing, including user-defined filtered inventory lists.
ezEdit is an MDI application, meaning the user may open multiple logs, each within its own window. Typical MDI (Multiple Document Interface) functionality is supported, including cascading, tiling of windows, etc.
Keystrokes for editing match the original DOS log editor (CMED) in all applicable cases.
Integrated context-sensitive help in all editing dialogs.
No dependencies. A log can be created and/or edited with no access to cart inventory information or host audio system. You can create or edit logs anywhere.
Support for Maestro relay functions (user-defined function numbers) up to 9999. Maestro will support an unlimited number of relay functions but only supports numbers 1 through 9999 being initiated from the log. DCS supports relay numbers 1-99 only.
XStudio "Emergency Log" support - create and edit emergency logs.
Application Requirements:
Windows 2000 Pro SP4 or later operating system.
Pentium processor or faster.
128MB RAM (Windows 2000 or XP), and 2 GB RAM (Vista and later OS').
20 MB free disk space (for this application and documentation only).
compatible VGA, super VGA, XGA or 8514/A monitor, with adapter, running 800x600 minimum display resolution (1024x768 highly recommended).
Microsoft mouse or compatible pointing device.
A LAN card (NIC), known to be working (if you will be connecting to a LAN to access audio files).
Although not required, to use ezEdit effectively, you need access to the XStudio, DCS, or Maestro log files and inventory files. Typically, this means you must be connected to the network (LAN) in which the XStudio, DCS, and/or Maestro systems are running. Both DCS and Maestro require a common location for log and invenotry files. It is these files that ezEdit needs to be able to access. Be sure that your system administrator has provided you the necessary access rights to these file locations. For logs, you will need both read and write access (to open and save log files). For inventory files, you need only have read rights (to open and view the inventory).
Purchasing ezEdit
| | | |
| --- | --- | --- |
| | $250.00 US | Order on-line immediately with a credit card using the Buy Now! button. If preferred, we can also send you an invoice for payment by check. |
Delivery
The software is available as a download and can be installed to try it out, with some limitations. After purchase, a registration is sent via email to enable full functionality.
License
This software is subject to a license and warranty agreement. Read the full text of the agreement here.
Guarantee
If you are unsure about the usability of this software, download it and try it out. We offer a free trial registration - it allows you to use the software for a period of time, fully functional, without purchasing. Request a trial registration.
Update Policy
All updates for the same major version of this software are downloadable at no charge. Major version updates may have an associated upgrade charge.