Rehearsed show prep!
XStudio Voice Tracker is used for show-preparation – creating voice segments for automated radio station programming. It can be used with our XStudio audio delivery system or DCS™ and Maestro™ systems.
XStudio Voice Tracker can be run on a standard PC equipped with a standard sound card and is a standalone application. Use it either within the broadcast facility or at a remote location.
XStudio Voice Tracker was created to meet changing automation show-preparation demands. Freeing up production studio time (the most common location for voice-tracking), being able to run on inexpensive hardware, ease of use, flexibility, and remote voice-tracking are some of the demands that dictated the design and implementation of XStudio Voice Tracker.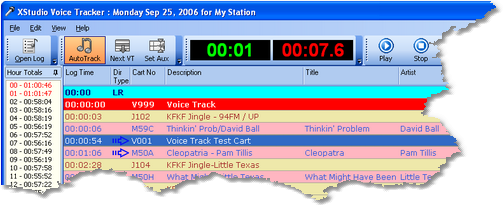 XStudio Voice Tracker is self-contained – there are no dependencies on the presence of an on-air delivery system (either XStudio or Wide Orbit 's Maestro & DCS). The software is typically installed on a standard PC. For playback and recording, the PC's built-in sound card can be used or, for more flexibility, a multi-channel audio card can be used. Generally, any sound card that has standard Windows ACM drivers available for your operating system can be used. Selected higher-end audio cards from Audio Science and Digigram can also be used.
XStudio Voice Tracker simplifies the process of pre-recording all of your voice segments for future air shifts. Users can preview the log, audition audio elements on the log and test element segues to ensure tight voice-over's.
Voice tracks for an air shift can be created "cold" – with no rehearsal – or with full rehearsal of the audio sequence, starting with the last few seconds of the preceding song, the voice track, and the first few seconds of the succeeding song. Extensive use of function keys means initiating a recording sequence is a single button-push (or mouse click).
Voice track carts (audio files) can be stored in a location separate from the music, jingles, and commercials library, isolating the files for ease in locating and transferring files to a remote location.
The user interface is very customizable, making extensive use of tool bars and dockable controls that can be moved around and even become "floating". Settings are automatically saved on program exit and restored the next time XStudio Voice Tracker is used.
XStudio Voice Tracer incorporates a number of innovative features to make show-preparation tasks easier and more flexible:
Full rehearsed recording – automatic playback of song outro and recording start with one-button start of next song.
Audition playback – listen to song-to-voice-track segue and voice-track-to-next-song segue with a single keystroke with full audio overlap.
Manual voice-track recording (cold tracking) is supported.
Re-do a voice-track with a single keystroke or mouse click.
Voice-track cart Aux Mark settings can be adjusted manually, then immediately rehearsed to hear to the result.
The user interface is simple, easy to understand – and fully customizable.
The software can be used on a standard PC using a standard sound card, including laptop computers.
Complete standalone application – no dependency on the broadcast audio system resources, which frees the user to create voice tracks outside the broadcast facility.
Multi-station, multi-site support. Each station has its own source log folder, rehearsal audio folder (for music playback) and voice track output folder. A file transfer folder can also be designated and XStudio Voice Tracker will place copies of newly-created voice-track carts in the folder for further processing by another application.
Music database information can be incorporated into the log display for complete song title and artist information.
Audio files created with XStudio Voice Tracker are compatible with XStudio, DCS, and Maestro.
Voice track audio files can be created with either the standard .DAF extension or with a .DFF extension for direct insertion into DCS & Maestro ACP systems.
Application Requirements:
Operating System: Windows XP Pro (SP3) or later
CPU Speed: 1 GHz or greater
RAM Memory: 1GB for Windows XP, 4GB for Windows 7 or later
VGA Display: a minimum of 800 x 600 resolution, 1024 x 768 or greater is highly recommended
Audio Card: an audio card supported by the operating system – one playback and one record channel as a minimum.



| | |
| --- | --- |
| | If only a single audio device is present in the system, that device will also be the one used by Windows to play system sounds. It is highly recommended that all system sounds be disabled if the PC has just one audio device. This will prevent unwanted sounds when auto-tracking a recording. |



Disk Space: At least 33 MB free disk space for XStudio Voice Tracker, audio engine, suporting files and documentation. Additionally, you must have sufficient available disk space to accommodate voice-track carts (audio files) that are created and any source audio libraries that are stored locally.
Purchasing XStudio Voice Tracker
| | | |
| --- | --- | --- |
| | $995.00 US | Order on-line immediately with a credit card using the Buy Now! button. If preferred, we can also send you an invoice for payment by check. |
| | |
| --- | --- |
| | The base XStudio Voice Tracker product includes support for playing back and recording PCM (linear) and MPEG2 audio files. To play or record apt-X™ encoded files, order XStudio Voice Tracker with the apt-X option. |
Delivery
The software is available as a download and can be installed to try it out, with some limitations. After purchase, a registration is sent via email to enable full functionality.
License
This software is subject to a license and warranty agreement. Read the full text of the agreement here.
Guarantee
If you are unsure about the usability of this software, download it and try it out. We offer a free trial registration - it allows you to use the software for a period of time, fully functional, without purchasing. Request a trial registration.
Update Policy
All updates for the same major version of this software are downloadable at no charge. Major version updates may have an associated upgrade charge.