Free Utility Pack!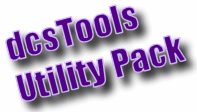 We wanted a better way to review and analyze software event logs (dump files) and a handier way of viewing and editing ini files, so we created these utilities for use in-house. After using them for a while, it occurred to us that others may also have use for these simple but effective tools. So, we decided to make them available as a free utility set - we hope you'll find them useful!
The utilities can be used with files produced by all dcsTools software, Maestro™, Genesys™ and any other software application (with some limitations).
The dcsTools Utility Pack includes:
dcsTools Event Log Viewer
dcsTools Ini Editor
Review the individual utility sections for additional information on each of the utilities.
Overview
dcsTools EventLogViewer is an application designed to make it easier to review and analyze text files generated by various software programs. These text files, often called "event logs" or "dump files", generally contain information that is useful in determining the cause of problems with an application or in following the sequence of events that led to unexpected behavior in the application.
The dcsTools EventLogViewer displays the content of event logs (or dump files) within a number of defined columns of information, including the date-time stamp of a log item, the module or other ID of the producer of the item, and the item's message (or data) content. In addition, columns can be displayed for the hour in which the action occurred, the date, and the file name. The additional column information is often used to group or sort information.
Supported Software Event Logs
All dcsTools software event logs (*.txt, *.dmp)
Maestro™ dump files (*.dmp)
Genesys™ dump files (*.dmp)
Selected Wide Orbit Radio Automation log files (*.log)
Other event files can be loaded, but information may not be separated into the correct columns, owing to different file record structures.
Features
Multiple file format support. All dcsTools software event logs, most Maestro™, Genesys™ dump files and selected Wide Orbit Radio Automation files are supported.
Multiple file viewing support. View several event logs, each in its own view window, or load multiple event logs into a single view window.
Grouping of data. Group viewed information by date, hour, module or ID, and file name (if multiple files loaded). Grouping can be nested – i.e. group by date and, within each date, group by hour.
Sorting. Sort columns ascending or descending with multiple column sorting supported.
Filtering. Only looking for information that contains certain key text? User-defined filters can be used, including wildcard support. Filters can be saved for later use.
Searching. Search for user-defined text in a selectable column of information. Up to 15 search strings are remembered and can be selected the next time you search for text. The entire search text list can be saved to disk and later re-loaded.
Bookmarks. Up to 10 bookmarks can be assigned for each viewer and are persistent across sessions if the event viewer contents are saved and later re-opened.
User Notes. A free-form note can be attached to each event item in the viewer. Notes are restored if the event viewer contents are saved and later re-opened.
Saved Viewer Sessions. Content displayed in a viewer can be saved to file. When a session is saved, all event items, associated user notes and bookmarks are stored to file and restored the next time the saved session is opened.
User-customizable appearance. Column widths, position, and grouping are automatically saved and restored each time the application is used. You can also save and load custom column settings on-demand.
Overview
dcsTools Ini Editor is an application for viewing and editing of traditional ini (initialization) files. These files are most often used to store a software program's settings. Registration information, default file locations and application characteristics are common examples of information stored in ini files.
dcsTools Ini Editor was created to make navigating and understanding the hierarchy of ini files easier. Each section is displayed, with its associated key values shown as children of the section. Sections and keys can be sorted for ease in finding particular items. Key values can be shown or hidden on-demand, making it easier to locate a particular section of an ini file.
Features
Easy-to-understand presentation of ini file structure.
Convenient editing of information, without having to remember ini file section and value-key data entry requirements.
Book marking of entries so you can go back to an entry quickly.
Most-recently-used (MRU) list of the last 10 ini files accessed.
Sorting of sections, keys and values.
Search sections, keys, and values.
Application Requirements:
Windows 98, Me or Windows NT, Windows 2000 Pro, Windows XP, Vista or later operating system
Pentium processor or faster
64 MB RAM or more for Windows 98 and Me, 128MB RAM or more for Windows 2000 or XP, and 1GB RAM for Vista and later operating systems
VGA monitor, with adapter, running 800x600 minimum display resolution. (1024x768 recommended)
At least 11 MB free disk space for the applications and documentation files.
Microsoft mouse or compatible pointing device.
| | |
| --- | --- |
| | If you will be working with large event files, keep in mind that the data is loaded and kept in-memory to facilitate sorting, grouping and filtering. Insufficient RAM will cause disk-swapping, which will slow performance. |
License
We do not charge for the software contained in the dcsTools Utilities Pack. All software included is subject to a license agreement, though. Read the full text of the agreement here.